The weather has turned the corner into cooler temperatures and possible rain, with snow in the higher altitudes. It snowed overnight in the Cascades, so it's just a matter of time before it smucks us. But in the meantime, a favorite time of year is here!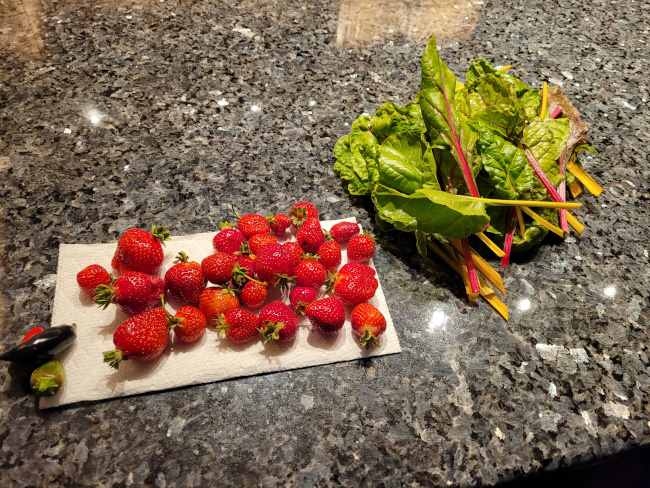 We picked some strawberries, a good double handful of Swiss chard, and some really pretty jalapeno peppers which are on the left side of the strawberries. The strawberries will be our afternoon snack, and the other vegetables went into a tofu scramble this morning, along with other vegetables from our garden. All together I used onion, bell pepper, potato, carrots, Swiss chard, jalapeno peppers, and tomatoes. So delicious! The purple jalapenos are neat! They look like miniature eggplants on the outside but are a very pretty green on the inside. We'll definitely grow those again next year.
We had a beautiful, but fleeting, sunrise this morning. One second it was just clouds on the eastern horizon, and the next we had color! I grabbed the camera and darted outside, almost not in time to catch anything.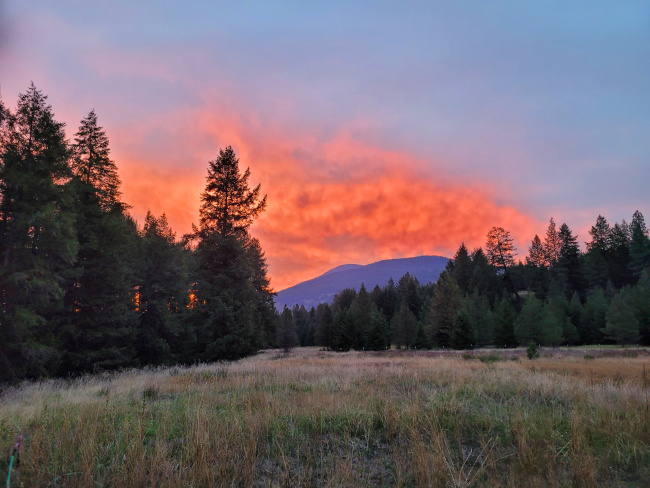 By the time I got out to where the Ash tree lives the color in the sky had already started to fade. And by the time I got back in the house, the color was almost gone.
The house felt so warm and cozy when I got inside; it was a balmy 40F outside, and it still hasn't warmed up all that much yet. Today we're getting our winter supply of heat in the form of three pallets of pellets for the heat stove. The time for regular use of the pellet stove is coming fast. Right now we just use it in the morning to take the chill off the house.